..... in fact to be precise it will be in 2 days!
here are my favorite Halloween looks that are definitely going to haunt me in my dreams becoz i actually wont get to wear them *tear*
Comme Des Garcons
This is a very unusual look yet it still has that special feel to it that makes it so different from everything else.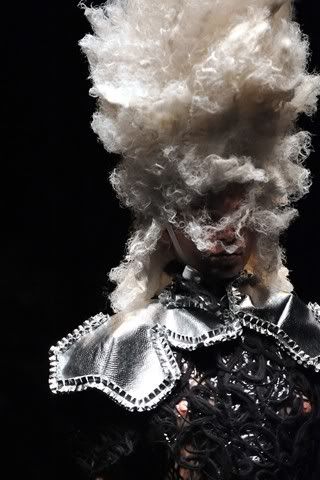 The detailing on this is just divine!!
Gareth Pugh
I absolutely adore this look and love the hair, makeup and just everything about it!
Gareth Pugh
The boots and head peice definately gives it that extra finishing touch.
Gareth Pugh
This is just amazing!! the body suit is just to D-I-E for even though i could never pull it off.
Rodarte Shoes
Pretty sure these shoes are going to kill someone if you acidentally step on or kick someone...
PERFECT for halloween!
I have been really slack and havent been blogging lately... have been so busy with everything! i have work till 9pm today and then I will be at Stray tonight for the "CASSETTE KIDS" album launch so ill see you all there woooo!! hopefully i wont be too tired.
WinterXox