1. Nathan Jenden

I truly fell in LOVE with this collection when I first laid my eyes on it! I loved absolutely everything about it. It is also a very wearable collection and the skirt in the forth look from the left is just amazing it reminds me of paper origami artwork ... truly great collection, can't wait too see what he will have next for us :)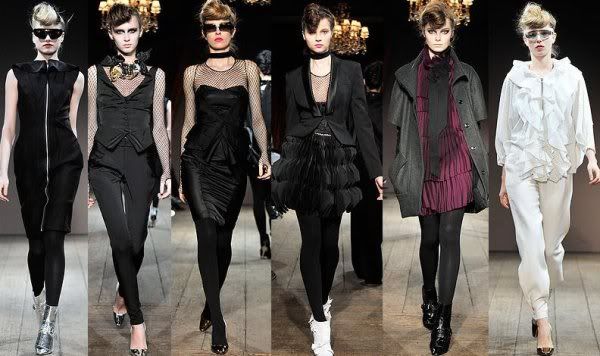 2. Stærk
I really appreciate the simplicity of this collection, the bold statements with the enormous brooch's is just the perfect touch to any classic look if your looking for that little edge!


3. House Of Holland
Henry Holland always seems to impress me with his collections, i loved how this collection flowed so smoothly and i loved how the colour starts off being dark on the garment and then slowly fades to a light pastel colour. Fantastic!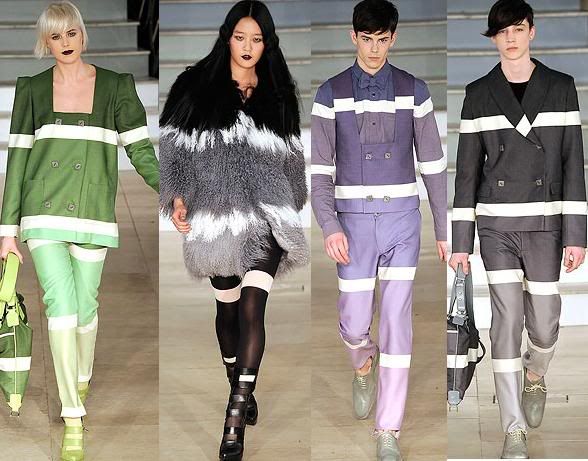 4. Karen Walker
The hats are adorable!! the dresses having a pattern like of rocks and pepple stones just seems to work so nicely in this collection, the colour palette seems to be so soft yet so bold.

5. Giles
Beautiful doll like pale skin with black lipstick another strong collection. This collection reminds me of dreamy artwork with lots of watercolours being used.... the cape, the dresses, the shoes, it just all works!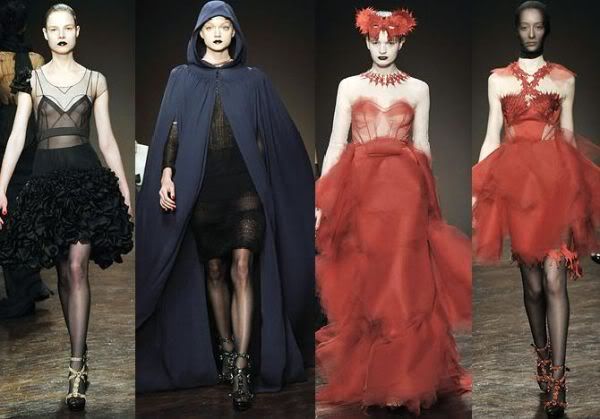 I liked this collection because there is just so much detail to every look. Unlike most of the other designers in "my top ten" he hasn't made this collection flow very well, which is also another reason i like this collection because it is different and has many things incorparated into the one collection.
7. Dolce & Gabbana
I loved how they used classic colours and photographs on the garments, but the reason why i really admired this collection was the way they used the gloves as head pieces and scarves and it surprisingly made it work and flow throughout the collection quite well!
8. Jil Sander

What can i say? you can NEVER go wrong with something so simple with a sharp edge! This collection reminded me of playdough moulded into beautiful clothing, i love the bright splashes of yellows and oranges i think this is just simplicity at its best...
The Rodarte sisters are always coming up with extravagant designs which i adore. This collection just had so much detail in each piece, although i think nothing can beat their Fall 08, it was just too good that i cant even express it in words! i did however like the styling and slick hair of this current collection.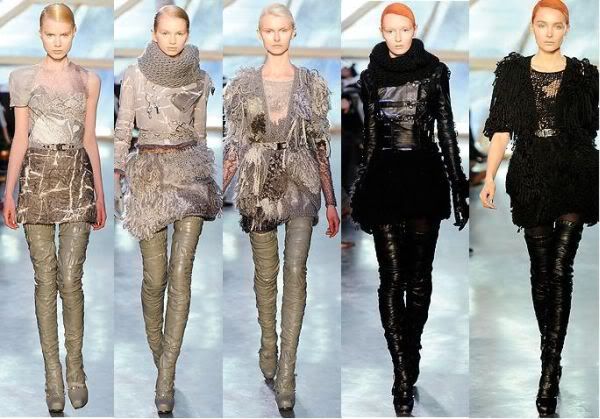 10. Matthew Williamson
The neck piece/scarf just looks fantastic, i can just picture myself in this on a breezy day! the colour mixture of red and black is my favorite but the blue and black is just as divine although i am more of a red/black girl and the zig-zags seems to make a bold statment in this collection.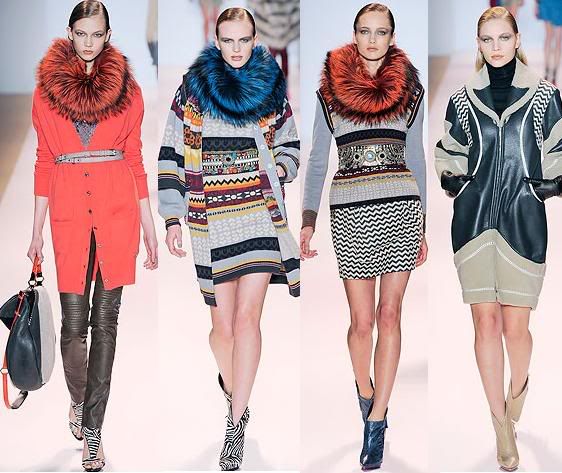 hope you enjoyed reading my mini personal reviews of "my top 10 - Fall 09"
xoxox