A couple of nights ago Winter and I went to our little brother's showcase night at his school - St Bernadine's in Browns Plains which is a small suburban town south of Brisbane. The night was about heroes and champions that have helped the world and evolve into how it is today. The 7th grade children had to dress up as their given hero and study information on them. The parents and friends are then are invited to look at their posters and outfit's and encouraged to ask questions to the youngsters.

What seemed to be the most interesting aspect of the night were the wonderful costumes of some of the kids. The amount of effort put into some of the costumes was great and really paid off well. It was so fascinating to see young children dress so out of the ordinary and they looked hot. Although the kids might have just seen it as olden day attire or something they would never wear in public, Winter and I thought that the costumes like those could be worn on a daily basis, and not just for children but anyone who enjoyed the cute ribbons, bow ties and top hats.

So here are some snaps we were able to take to remind us how cute everyone looked - but these were some of our favourites we just had to share.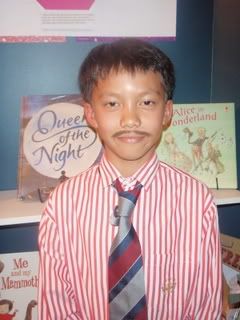 Shaking hands with Abraham Lincoln

Willow
xx